I just got my box of 9 balms in mail today to add to my collection of balms. My Lip Stuff (www.mylipstuff.com) makes all natural, animal friendly, homemade lipbalms and other bath/body products. I actually found them on PETA's "mall" for eco-friendly/vegan friendly shopping online. Of course, since I've been on this lipbalm kick lately, I had to try it. My Lip Stuff is known for thier 400 flavor collection of balms.....so there is definatly a flavor for everyone! Also, their products are NOT vegan....they use bees wax which many vegan do not use (while it's okay for some). BUT, they DO carry 100% vegan balms which are made from candelilia wax (instead of bees wax).
I wasn't really sure what to try, so I just picked up a few of the top sellers and a couple that I just thought sounded interesting: Cinnamon Roll, Rainbow Sherbet, "Mixed Mystery", Upside-Down Pineapple Cake, Monkey Farts and Peach Melba. I also picked up the intensly moisterizing Lickity Lips balm, and the Pink Cake Lip Gloss (which was HIGHLY recommended on the website). Okay, so lets get started!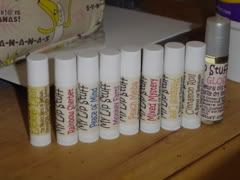 Rainbow Sherbet: Let me just say that when I opened up the tube, it smelled EXACTLY like rainbow sherbet! I usually don't really like fruity ice creams (I'm more of a vanilla kind of gal)....but I was pleasently surpised the super juciy scent. As I appiled it, the scent became even more intense and the balm glided on smoothly, almost like a gloss. It left a lovely sheen to the lips, and absorbed quickly as it moisterized. The scent died down a bit after a few minutes, but still lingered on the lips. This would be the perfect balm for a date night (or at least if you were expecting a kiss ;) ) Very good balm overall.
Peace of Mind: I see why they call this Peace of Mind, the name is very suiting of the peppermint, spearmint, anise, basil and eucalyptus blend. As soon as I opened the cap, I could smell the refreshing scents of mint and licorice. It appiled smoothly, as of the other balms and absorbed quickly, and left a slight sheen. It also had a nice tingle when first appiled (like the Burts Bees lipbalms). It claims that you could use it to freshen your breath after a meal, but I would still stick with a tin of Altoids. But, like the Burt's Bees balms, the peppermint dries out the lips overtime, and might make you reapply more often. But, the scent is nice and pleasent compared to the other intense scents that have a time and a place; for this balm it's right before bedtime.
Monkey Farts: Silly name, I know. But this balm is a combination of bubblegum, banana, stawberry, kiwi, vanilla and grapefruit (dunno how they came up with the name, it's a bit off putting isn't?). It appiles and is essentially the same as the others (consistency in this brand is very good in my opinion compared to other homemade brands). When first appiled the balm has a VERY intense bubblebum smell....almost too overwhelming. BUT, after a minute or two, it mellows out, and I can definatly smell the notes of banana, strawberry, kiwi and vanilla (and not so much grapefruit, except in a slight tartness). Very good, but might want to pass it up if you are sensitive to intense scents.
Peach Melba: I've never had the dessert which was the inspiartion for this balm, but I just might now...Peach melba (just in case your like me, and had NO idea what it was) is a dessert with chilled peaches, rasberries, vanilla ice cream and a tiny bit of lemon juice. When I first appiled it, I at first smelled the rich vanilla, and then began to smell the other more subtle notes. Good balm, nothing special. Pick up one of the more interesting scents instead.
"Mixed Mystery"- the idea behind this balm is the 'mystery' scent which apparently changes each time you apply it. I'm not so sure about that....but it came free with my order, so I had to try it anyway. Essectially the same as the others. When appiled it had the same intense bubblegum scent, and really didn't die down until I wiped it off my lips. I'm not the biggest fan of bubblegum scents in balm, they give me a headache and just smell.....a little too strong for me.
Upside-Down Pineapple Cake- MmmmmMMmmmmmmMMmmm........probably has the best scent that I've tried on so far in the tube. You can immeadiatly smell the yummy yellow cake and frosting...and then you get the juicyness of the pineapple, which is absolutely AMAZING. It reminds me of summers sitting by the pool at my Aunts house and eating freshly baked Upside-Down Pineapple Cake under the cabana. The scent is sweet, but not TOO sweet versus the intense bubblegum (Monkey Fart) scent, which for me was a bit too strong.
Cinnamon Roll- I have a Cinnabon in the mall where I work, and occasionally I can smell the fresh baking rolls, even from the other side of the mall. As this is one of my all-time favorite desserts, there are sometimes when I just crave a fresh baked cinnamon roll. This is JUST like that......it smells warm, cinnamon-y, goey and delicious. You can seriously smell the frosting when you lick your lips....yummy. I would HIGHLY recomment this one for cinnamon roll lovers. It's like eating a cinnamon roll, without the guilt ;)
Lickity Lips- This highly moisterizing balm is unscented and has a thicker texture than the other lipbalms. It is meant for the more 'mature' crowd you just want all the moisture without the fun scents. Although, I think that it does smell like the spa....relaxing and natural, but nothing overwelming. Very good for very dry lips. Has the signature My Lip Stuff ease of appilcation and give a sheen to the lips. Perfect before bedtime for an overnight lip treatment.
Last but certainly not least:
Pink Cake Gloss: The gloss is in those old-school rollerball tubes that I used buy at the dollar store and smelled like candy. So, it had a little bit of nostalgia for me to get it....just with a super yummy flavor. I read quite a few reviews that were featured on the website and this gloss falvor was HIGHLY recommended. When I first even twisted the cap, it smelled exactly like freshly baked yellow cake (very similar to Jaqua's Buttercream Frosting). It glided on easily, even though it took a few seconds to get the ball rolling (pun intended). It left a nice 'wetness' to the lips, like just coming out of the pool. But, not a super glossy appearance (go with a MAC lip gloss for a UBER shiney lip). This is perfect for the girl who wants a glossy look, but without the worry of the gloss being stuck on her hair. Ovetime, it absorbs into the lip, leaving them nice and smooth. But on the downside, the slight gloss completly dissolves.
overall, the products were very good. The only problem that I had with the brand was its quick absorbtion. I prefer when I purse my lips and I can feel a little bit of something on my lips. This brand wouldn't be good for those who like to lick their lips, even from time to time because you would wipe off any product that you appiled. But, don't get me wrong it's not that big of a deal, and the yummy flavors more than make up for it!